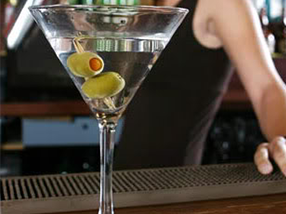 Bar Business Financing
Bar owners, we salute you. You are savvy, detail oriented, and you know what the people want. You are excited about offering an environment for laughs, great drinks and fun times to your customers.
Your bar, sports bar or lounge is on the up-and-up and an unsecured cash advance from Business Lending Authority will put your small business in position to take over happy hour and be a major player in the nightlife scene.
Unlike banks and conventional lenders, we offer a reliable, fast and flexible small business loan alternative that will put money into your account within 48 hours and give you the freedom to spend that money any way that you like. Just fast cash with no restrictions.
Whether you have good credit, bad credit, no credit, outstanding loans or a high risk risk designation, you can be eligible for a shot of unsecured business operating capital from Business Lending Authority today.
Serve Drinks Responsibly
The folks at business Lending Authority know what it takes to run a small business and understand that there can be lots of risks and pitfalls in starting and running a bar or lounge. The numbers show that 75% of bars fail within their first year, due in large part to the fact that most bars, sports bars and lounges are underfunded. Business Lending Authority's unsecured and unrestricted small business loan alternative will help newer bars avoid being that statistic and keep more established bars on the right track. Our quick and easy application process will see you get approved and receive unsecured operating capital in a matter of 48 hours.
No more getting buried under endless paperwork and no more waiting for weeks on end for a loan too small to meet your needs, only to get rejected in the end. No more games. Whether your sports bar needs eight new high definition LED flatscreens for SuperBowl Sunday, different furniture for the new look of your lounge, or a kitchen overhaul for your new and improved bar menu, Business Lending Authority has got the money you need without the hassle and is committed to your continued success.
How It Works :  Bar Financing
Business Lending Authority uses you future revenues to offer fast, unsecured cash advances, regardless of your credit score and without collateral threatening your personal property. While conventional lenders and bankers take weeks to evaluate and approve loan applicants, our alternative process takes as little as 2 days. The daily operations of bars, sports bars and lounges need you to stay focused, take great care and look at pricing, spending, inventory, advertising, entertainment and so much more with a fine-toothed comb. You can't be agonizing over the loan from the bank and run high quality establishment at the same time. Business Lending Authority wants to take the headache away and give you access to our game-changing, reliable, small business funding in amounts totalling anywhere from $1,000 to $1,000,000!
What You Need for A Business Lending Authority Business Loan
While big banks are losing faith in small businesses, we know that small businesses are truly the backbone of the economy! Let Business Lending Authority work directly with you to bring your patrons the best drinks and a unique entertainment experience with our flexible, 48 hour financing. Here are some of the basics of what you need to apply:
A 6-month old business (no start-ups)
At least $7,500 per month in deposits
Good Credit? Bad Credit? No Credit? No Problem!
Business Lending Authority is the quintessential loan alternative that simplifies the process and really makes it possible to get the unsecured capital you need. With no limitations on how to use your money, you can reach your business benchmarks and make your bar, sports bar or lounge a huge success.We do not ask for collateral or liens on your personal property, so your stuff is safe and with a 48 hour turnaround time, your money is in your bank account faster than the bartender can say last call!
It's easy to begin, just fill out the form on the side of this page and one of our Business Lending Authority representatives will walk you through a few simple steps over the phone so you can get on your way to a fast, unsecured loan for your hardware store small business
What You Don't Need:
You do not need perfect Credit
No Restrictions on what areas of your business to spend your money
No need for tons of paperwork proving your creditworthiness
No Demands for liens on your property or collateral which you could lose
Unlike traditional small business loans from banks, Business Lending Authority gives you the freedom and flexibility to allocate the cash you need into any facet of your business. You're the one on the ground, providing fun times and endless memories to your guests and only you can determine what your bar or lounge needs. Whether it's employing and training more bartenders, sending them to mixology school, investing in more creative advertising, increasing your security for the late-night and weekend rush, buying NBA League-Pass for the viewing pleasure of your loyal Basketball fans or opening new locations in strategic areas, Business Lending Authority's innovative small business solutions will open up endless possibilities for the growth of your sports bar and lounge business venture.
In addition, once you repay 70% of your Business Lending Authority Business Loan Alternative, you have the option to apply for up to 200% of your first amount in refinancing. No where else will you find a well of liquid capital like ours that won't arbitrarily dry up when you need it most. So even after you've had a few, you can always come back to Business Lending Authority for another round!
The stress of dealing with big banks and traditional lenders will make bar and lounge owner say "I need a drink!" They place restrictions and limits where Business Lending Authority sees opportunities. In fact, banks and business lenders require you to pay back 95 to 100% of that small business loan before you can be eligible to even begin the long and unnecessary process of applying for more money. Our fast, easy and flexible process bring you quick cash, keeps your business efficient and increases your peace of mind.
Keep the drinks, fun and cash flowing with an unsecured small business loan alternative from Business Lending Authority today! Bar Financing Available.