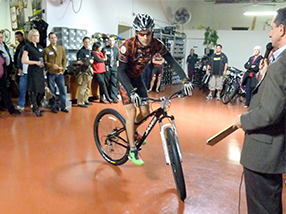 Bicycle Business Loans
Your bicycle shop is your passion and main focus, so give your bike shop business the boost it needs to make it an absolute success with an unsecured small business loan alternative from Business Lending Authority.
You want to ensure that your small business bike shop meets its business goals, attracts tons of local customers and is the ultimate cyclist's paradise, and we can help you do that with a simple and easy, unsecured cash advance of anywhere from $1,000 to $1,000,000 in as little as 48 hours. You have to bike for miles and miles to find unsecured funding offered to you with no hassle and in such record time.
Business Lending Authority's unsecured operations capital application process is so simple to use and the unsecured cash is easy to get and just as easy to spend on any facet of your business that you choose. You and only you know what your bike shop small business needs and unlike conventional banks and loan companies, we won't ever tell you what you can and can't spend your unsecured financing on. Our unsecured small business loan alternatives come with no restrictions, penalties or late payment fees, so you will never be in more debt than you planned. Do you have good credit? Bad credit? No credit? You are still eligible for unsecured financing with Business Lending Authority. Do you have outstanding loans, or a high risk designation for your business? Not to worry, our qualifications only require the basics and won't penalize or disqualify you for these details. Our only concern and desire is that your bicycle shop business maximizes its potential reaches its core goals.
With health consciousness at an all-time high, and and increasing concern for our environment, more and more people are turning to biking for their daily transportation needs. Not only is biking a healthier form of transport that puts some heart-pumping exercise in your day, but there are no harmful carbon emissions to hurt the environment. You should be investing in your small business bicycle shop now more than ever with flexible, no hassle unsecured funding from Business Lending Authority. Be prepared to handle the influx in demand by putting flexible unsecured financing into the areas of your business that need it most.
We understand that running any small business is a labor of love. It can bring lots of joy and be very fulfilling, but is also quite difficult and takes lots of hard work and dedication. So let the folks at Business Lending Authority ease part of the burden by making your unsecured lending experience as easy, simple and as seamless as possible.
We can help supply your bike shop with all of the essentials it needs. Do you need to upgrade your facility to a larger space? Business Lending Authority has the unsecured cash you need to move into your new store front right now. Maybe you're running short on inventory like cannondale bikes, bike racks and shorts, or you need to hire a few more employees but don't quite have all of the resources to make the necessary investment in the future growth of your bike shop. That's where we come in! We are here to be your business partners and make sure that you succeed in every area of your business possible. Failure is not an option and the folks at Business Lending Authority are ready to help you push your business to the next level.
Bicycle Shop Loans : How It Works
Business Lending Authority uses your future revenues to offer fast, unsecured business loan alternatives, regardless of your credit score. Just fill out our quick application and within as little as 48 hours, you could be approved for a substantial unsecured cash advance. Our unsecured loan alternatives are flexible and unrestricted, meaning you can use your money in any aspect of your business. There are no requirements or penalties on our unsecured loan alternatives, and we accept you whether or not you have good credit, bad credit or no credit, outstanding loans or a high risk designation.
And If that's not enough good news, we boast a 90% approval rate and we never ask for collateral or liens on personal property that you could lose! Unsecured financing has never been this easy! Read on to find out what you need to access anywhere from $1,000 to $1,000,000 in unsecured small business capital.
What You Need for An Unsecured Business Lending Authority Loan Alternative
The next time a big bank tries to give you a horrible loan, just drive off and leave them in the dust. Business Lending Authority wants to work directly with you to make sure your bike shop becomes the best and most talked about bike shop in your area with our flexible, unsecured 48 hour financing.
Here are some of the basics of what you need to apply:
A 6-month old business (no start-ups)
At least $7,500 per month in deposits
Good Credit? Bad Credit? No Credit? No Problem!
What You Don't Need:
An unlimited amount of paperwork or documentation proving your good standing
Liens on your property or collateral which you could potentially lose
Arbitrary and unnecessary restrictions on what areas of your business to spend your money
We don't have to tell you that dealing with big banks and traditional lender is a bigger pain in the butt than cycling down a rocky hill without bike shorts. They waste your time by asking you for unnecessary amount of paperwork and make you wait for months on end just to tell you that you've been rejected. Our unsecured loan alternatives are the easiest to get in the loan market because we won't add unnecessary requirements and long approval periods. All it takes is our fast application and you could have the unsecured cash you need in your bank account in as little as 48 hours.
Not to mention, out unsecured operating capital is virtually unlimited. You can pay of as little as 70% of your unsecured cash advance and immediately re-apply for up to 200% of the original amount in refinancing, unlike big banks that only allow you to lend once or make you pay the entire loan amount before you become eligible to start the tedious loan process again.
We are committed to seeing your bicycle shop small business reach the finish line, so apply for an unsecured business loan alternative with Business Lending Authority Today!