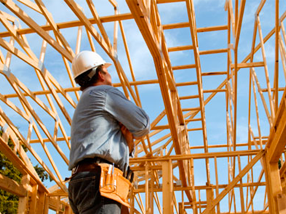 Construction Business Loans
If you are in the business of construction, financing your small business to provide high-quality structures for your clients at a handsome profit is the number one priority.
Call BLA today for your Construction Business Loans.
The construction business has a number of underlying expenses that put a dent in your cash flow. Expenses such as purchasing equipment and raw building materials, as well as paying a highly-skilled workforce place a hefty burden on your company's bottom line, and are doubly expensive for newer businesses that are trying to gain a foothold in the industry. Various upfront costs can put your company in a financial bind that may ultimately lead to bankruptcy. However, an infusion of liquid capital will give your business the cash it needs to succeed. Business Lending Authority offers fast access to liquid cash that will give your construction business an advantage over competitors, while providing funding for hiring and paying personnel, renting space, and buying new equipment and raw materials necessary for your company to grow and thrive in the industry.
Banks and traditional lenders use a series of metrics to determine their rigid lending guidelines. Unfortunately, most small construction businesses are considered "high-risk" loans, which makes it nearly impossible to borrow money when you're experiencing cash flow problems. Moreover, if you have a bad credit rating, less than stellar tax records, lack collateral or suffer from a lackluster perfect profit history, the chances of getting construction financing are slim. Even if you get the loan, the application and approval process takes several months to complete before giving you access to the capital. Time is money, and attempting to get a loan can impact your business' bottom line by halting day-to-day operations and causing you to miss out on lucrative contracts.
Construction Financing from Business Lending Authority
Business Lending Authority to the rescue! We offer fast cash advances for construction business financing. Whether you need as $1,000 or up to $1,000,000 in operating capital, we are here to help you succeed. Our cash advances are restriction-free, so you can use the money to improve any aspect of your business. Here are just a few of the construction businesses we work with:
General Construction Financing
Small Renovation Companies Financing
Real Estate Developer Financing
Trade Contractor Financing
Construction Manager Financing
Design-Builder Financing
A large percentage of small businesses have a difficult time acquiring the necessary capital to operate, grow and thrive. It is estimated that 85% of small businesses fail during their first year of operation, while a whopping 98% of new businesses fail before reaching the five-year mark. These staggering figures are largely due to the businesses' lack of capital and their inability to obtain funding through traditional business loans. Construction businesses are equally at risk, so its important to consider all options to keep your company from going under. An unsecured loan from Business Lending Authority will give you the  operating capital you need for your construction business in as little as 48 hours. That's right, you can have your money in just two days. A small business financing opportunity this spectacular is rare. Especially in the small business world where access to cash is limited without great credit and high profits.
Benefits of A Cash Advance for your Construction Business
Consider the many things you would like to do to improve your business- purchase new equipment and raw materials, hire new workers, expand operations, improve training, renovations, raise employee pay and offer better benefits. Think about the ways an improved marketing plan developed by a top advertising firm will increase the visibility of your company. An unsecured cash advance from Business Lending Authority will give you the opportunity to bring your ideas to fruition, which will led to increased number of building contracts and higher profits for your company. Our turnaround time is second to none. Apply for a Business Lending Authority cash advance at the start of the work week and you will be raising cranes with new equipment and a bigger staff by week's end.
Financing a Construction Businesses With Business Lending Authority's Unsecured Loans
Here's how Business Lending Authority's cash advance program works.
What you need:
A construction business that has been operating for at least 6 months. No startups.
Gross monthly sales of $15,000 or more.
To fill out the loan application form on the side of this page.
To complete a few easy steps that a Business Lending Authority representative will walk you through over the phone.
Unlike the application process for traditional bank loans, when you apply for a Business Lending Authority Loan, bad credit, outstanding loans or a high risk designation is not held against you. Instead of scrutinizing your profits and credit score, we focus on your revenues.
What you don't need:
Collateral or demands for liens on your property which could be lost.
Restrictions on the ways you can use the money you apply for.
Time consuming traditional business loans that take several months to obtain; that is, if you pass all the strict requirements.
Does your construction business fit these criteria? If so, we may deposit $1,000 to $1,000,000 in liquid cash into your bank account in as little as 48 hours. We give you the peace of mind of not having to worry about strict guidelines once you get the cash because our unsecured business loans are restriction-free. Therefore, the capital can be used any way you see fit for your business.
Construction Business Loans : How Construction Financing Works
Business Lending Authority is able to provide your construction business with liquid cash by using your future revenues as collateral. Since we do not look at your credit score or focus extensively on inspecting months and months of your profits, we are able to offer more capital in a faster time than traditional lenders. Additionally, once you have repaid 70% of the original loan, we allow you to apply for more operating capital. This added bonus gives you faster access to additional capital for expenses, operations and expansion costs that will inevitably increase as your business grows into a rousing success. Banks and traditional lenders require at least 95% of the loan to be repaid before allowing you to start another lengthy loan application. This time consuming process could make you to miss out on a construction boom, discounts on raw materials, and hiring new workers for new projects, all of which could possibly cause your business to struggle due to limited funds.
Fill out the form on the side of this page to get kick-started on the road to business success. One of our seasoned Business Lending Authority representatives will call you as soon as possible to help you through the quick and easy loan application process to get the operating capital you need to help your business outpace competitors and thrive in the construction industry.