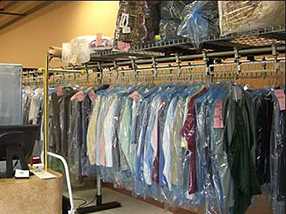 Dry Cleaner Business Financing
Nowadays everyone is super busy and on the go,  and increasingly fewer people have the time to sit in a laundromat for hours watching, washing, drying and folding clothes. Your dry cleaning small business is the epitome of ease, flexibility and convenience in laundering clothes for your customers and Business Lending Authority would like to bring that same convenience to your dry cleaning business with our flexible, unsecured business financing.
We can offer you the essential unsecured operating capital you need to keep those shirts clean, skirts pleated, your employees paid and your business running as smooth as the silk fabric lining of a suit.
Dry Cleaner Business Financing  : Need It by Tomorrow?
While your dry cleaning small business might have us beat in terms of turnaround time, Business Lending Authority promises a quick and painless application and lightning fast approval for unsecured capital in as little as 48 hours! No bank or traditional lender can make that promise. In fact, most big banks and lenders will take many weeks and even months to look at your qualifications for a small loan, just to come back with and answer of "NO!" Not so with us. Business Lending Authority has all the flexible, unsecured cash flow options you need, whether you have good credit, bad credit or no credit at all. If you have pressing financial needs, we can and will help you.
The folks at Business Lending Authority know what it takes to run your dry cleaning small business and understand that it isn't always easy. Whether it's hiring employees experienced in removing stains from various fabrics, buying brand new machines for dry cleaning and training your employees on how to use them, or buying hundred or thousands more hangers, bags and tags to keep your business running and stay competitive, Business Lending Authority's fast and easy unsecured cash advances and unsecured loan alternatives will have your business booming in no time and help your profits soar.
Dry Cleaner Business Financing  : How It Works
Business Lending Authority uses the future revenues of your dry cleaning business to offer fast, unrestricted, unsecured business loans, regardless of your credit score, high-risk status or any other mitigating factors. Business Lending Authority knows that when you apply for an unsecured, liquid cash advance, you need it as soon as possible, and we can offer you reliable, profit increasing, game-changing loan alternatives of anywhere from $1,000 to $1,000,000 in unsecured operating capital. Here's what you need to know to get on the fast track for a hassle-free, unsecured small business cash advance from Business Lending Authority.
What You Need for A Business Lending Authority Business Loan
Hang those big banks and conventional lenders out to dry! Business Lending Authority wants to work directly with you to help clean up in the in the dry cleaning business with our flexible, unsecured, 48 hour financing. Here are some of the basics of what you need to apply:
A 6-month old business (no start-ups)
At least $7,500 per month in deposits
Good Credit? Bad Credit? No Credit? No Problem!
An approval process with requirements as quick and easy to meet as these is as hard to find as a white shirt without a stain. Banks big and small talk a good game about helping the small business owner with conventional loans but Business Lending Authority gives you an unsecured alternative that really makes it possible to get the capital you need, with no restrictions or limitations on how to use your money, so your business can stay afloat in tough economic times or move up to clean out the competition.
It's easy to begin, just fill out the form on the side of this page and one of our Business Lending Authority representatives will walk you through a few simple steps over the phone so you can get on your way to a fast, unsecured loan for your fitness center or gym.
What You Don't Need:
A Laundry list of paperwork or documentation proving your good standing
Liens on your property or collateral which you could potentially lose
Arbitrary and unnecessary restrictions on what areas of your business to spend your money
We are different from traditional small business lenders and from banks. Business Lending Authority gives you the freedom and flexibility to take the unsecured cash you need and put it directly into any facet of your business, no questions asked. Only you can determine what your dry cleaning business needs. Whether it's hiring a tailor and expanding your services to include on-site alterations, repairing broken machinery and equipment, starting a membership promotion to drum-up more business, buying a truck for dry cleaning pick-ups and deliveries, or moving to a new location that is closer to a major office building or fashion district, Business Lending Authority keeps you in the drivers seat of your business, bringing convenient unsecured financing solutions to your everyday business decisions.
And once you repay 70% of your Business Lending Authority Business Loan, we allow you to apply for up to 200% of your first amount in unsecured refinancing. No one else is as reliable and supportive of your business as we are.
Business Lending Authority believes that small business deserve a fair shot at success and our unsecured loan alternatives of anywhere from $1,000 to $1,000,000 can help your business be wildly successful. You need someone in your corner who will make running your business easier and be a fast and reliable source of  unsecured financing option for your essential business needs. Business Lending Authority's unsecured loan alternatives come without the hassle, restrictions and limitations that other banks and conventional lenders place on loans. We want you to lend, expand your business, reach your goals, change your future and make your business dreams come true. Don't let outstanding loans, a high-risk designation, no credit or bad credit stop you from serving your customers and fulfilling your potential, because we won't let it stop us from offering you the best in unsecured small business loan alternatives.
Push your dry cleaning business to the next level with a small business loan alternative from Business Lending Authority Today!