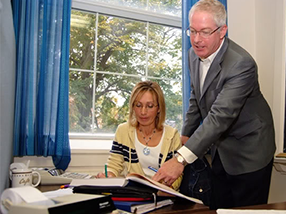 Whether it is April 15th or not, people and businesses need your accounting services to keep track of their hard earned money and manage their expenses, which is why you need Business Lending Authority's fast and reliable unsecured operating capital to keep your company running.
We offer fast and flexible unsecured funding for your everyday accounting small business needs. No matter what stage your business is in, whether your business is 6 years old or 6 months old, we can help you drastically increase your profits, achieve your goals, and eliminate all of the stress due to small business lending that comes with running your accounting business
File for an Unsecured Cash Advance With Business Lending Authority!
Your clients will be coming to you to file their own yearly tax returns, and we encourage you to come to us and fill out our lightning fast application for an unsecured loan alternative. Accountants handle all of the money information and details for their clients and make managing money easier, but that unfortunately doesn't apply to most big banks and lenders. They ask for exorbitant amounts of paper work and make you wait for months at a time just to reject you for what would have been an insufficient loan anyway.
At Business Lending Authority we endeavor you be an integral asset to your current and future success. Unsecured  bad credit cash advances without penalties are hard to come by. Give your accounting small business a leg up on the competition by applying today!
How It Works
Business Lending Authority uses your future revenues to offer fast, unsecured business loans, regardless of your credit score. Just fill out our quick application and within as little as 48 hours, you could be approved for a substantial unsecured cash advance. Our unsecured loan alternatives are flexible and unrestricted, meaning you can use your money in any aspect of your business. There are no requirements or penalties on out unsecured loan alternatives, and we accept you whether or not you have good credit, bad credit or no credit, outstanding loans or a high risk designation.
And If that's not enough good news, we never ask for collateral or liens on personal property that you could lose! Unsecured financing has never been this easy! Read on to find out what you need to access anywhere from $1,000 to $1,000,000 in unsecured small business capital
What You Need for A Business Lending Authority Business Loan
You deserve a tax write-off for having to deal with banks and traditional lenders all these years! Business Lending Authority wants to work directly with you to ensure your success in the  accounting business with our flexible, unsecured 48 hour financing. Here are some of the basics of what you need to apply:
A 6-month old business (no start-ups)
At least $7,500 per month in deposits
Good Credit? Bad Credit? No Credit? No Problem!
An approval process with requirements as simple and easy to meet as these is virtually impossible to find anywhere on the market. Banks big and small talk a good game about helping the small business owner with conventional loans but make the process as difficult as possible by adding usage restrictions and penalties, not to mention limiting how many times you can lend or making you pay back the entire loan before you can be eligible to apply again. Business Lending Authority gives you an alternative that really makes it possible to quickly get the capital you need, with no limitations on how to use your money, so you can reach your business benchmarks and make your accounting business a success.
It's easy to begin, just fill out the form on the side of this page and one of our Business Lending Authority representatives will walk you through a few simple steps over the phone so you can get on your way to a fast, unsecured loan for your accounting small business
What You Don't Need:
An unlimited amount of paperwork or documentation proving your good standing
Liens on your property or collateral which you could potentially lose
Arbitrary and unnecessary restrictions on what areas of your business to spend your money
We are different from traditional small business lenders and from banks. Business Lending Authority gives you the freedom and flexibility to take the unsecured cash you need and put it directly into any facet of your business, no questions asked. Only you can determine what your accounting firm needs.
Whether you need to update your computers and invest in newer versions of Microsoft Excel or other accounting software, research your market and advertise your business accordingly, or expand your accounting business from just individual income tax and accounting to business accounting, the folks at Business Lending Authority will finance you. Our unsecured cash advances will give you flexibility you need during transition periods in your operations and help you push your business to the next level.
Unlike banks and conventional lenders that force you to repay 80%- 100% of your loan before being eligible to re-apply, once you repay 70% of your Business Lending Authority Business Loan, we allow you to apply for up to 200% of your first amount in unsecured refinancing. There is no limit to the number of times you can apply, so you have a virtually unlimited pool of unsecured funds from which you can draw for your everyday business needs. No one else is as reliable and supportive of your business as we are.
Business Lending Authority believes that small business deserve a fair shot at success and our unsecured loan alternatives of anywhere from $1,000 to $1,000,000 can help your business be wildly successful. Don't let outstanding loans, a high-risk designation, no credit or bad credit stop you from serving your customers and fulfilling your potential, because we won't let it stop us from offering you the best in unsecured small business loan alternatives.
Take your future into account and apply for an unsecured small business loan alternative from Business Lending Authority today to get for Funding for accountants.