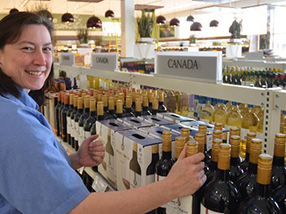 Liquor Store Business Loans
Over the last 100 years, from the Great Depression until now, the liquor business has proven its resilience and strength. It doesn't matter if it's Prohibition, the Cold War, or the Great Recession of the last few years, one thing's for sure and that is that people love to drink and Business Lending Authority wants to help you get the party started with fast and easy, unsecured small business loan alternative for your wines and spirits shop or liquor store.
You could have a flexible, reliable and sizeable unsecured cash advance in your bank account in as little as 48 hours after completing our quick application process.
Liquor Store Business Loans: Business Lending Authority is 100 Proof!
Business Lending Authority is serious about your liquor store and wine and spirit shop and our system can't be beaten–you could say we're 100 proof!. We know running a business is tough and our unrestricted, unsecured business capital can make all the difference in your business and relieve some of that stress. Whether it's upping your red wine inventory for the upcoming holiday season, investing in a new type of vodka for a recent spike in demand in your area, or just remodelling your space to bring a new feel and attract more customers, having flexible, liquid, unsecured financing at a moments notice is key and Business Lending Authority can provide that for your liquor store business right away. Unlike banks and conventional lending firms, our money comes hassle-free, without penalties, restrictions, collateral or liens on your property or assets. You'll be approved regardless of your credit history. Our great customer service and lightning fast, 48-hour approval will have you breaking out a glass and toasting to amazing profits and lasting success!
How It Works
Business Lending Authority uses your future revenues to offer fast, unsecured business loans alternatives, regardless of outstanding loans or credit history. We understand the issues that small businesses face and won't make you drink an entire handle of whiskey just to get a small, one-time loan. Business Lending Authority wants to give you access to a liquid cash advance– flexible operating capital that will put your wine and spirit shop or liquor store at the very top of the business. We can put real, profit increasing, game-changing business capital in your bank account quicker than you can say Cinco de Mayo! Anywhere from $1,000 to $1,000,000 can be yours to enhance your business right now. Here's what you need to know to get on the fast track for a hassle-free, small business cash advance from Business Lending Authority.
What You Need for A Business Lending Authority Business Loan
It's all sour grapes when it comes to traditional banks business lenders and their unfair policies. Let Business Lending Authority work with you to help you grow a thriving and competitive wine and spirit/ liquor store business with our easy, unrestricted 48-hour financing. Here are some of the basics of what you need to apply:
A 6-month old business (no start-ups)
At least $7,500 per month in deposits
Good Credit? Bad Credit? No Credit? No Problem!
An approval process with requirements as simple and easy to meet as ours is virtually impossible to find anywhere on the market. Banks big and small are neglecting small business because they feel they won't see the necessary returns, but Business Lending Authority knows your small business has untapped potential, whether your business is moderately or very profitable. We give you an alternative that makes it possible to get the capital you need fast, with no limitations on how to use your money, so you can reach your business goals and sell bottles faster than you can buy them!
It's easy to begin, just fill out the form on the side of this page and one of our Business Lending Authority representatives will walk you through a few simple steps over the phone so you can get on your way to a fast, unsecured loan alternative for your liquor store.
What You Don't Need:
A stock room's worth of documentation proving your good standing
Demands for liens on your property or collateral which you could lose
Restrictions on where and how you can allocate your small business cash advance
Unlike traditional small business loans from banks, Business Lending Authority's unsecured cash advances are packed with freedom and flexibility to let you choose what areas of your business need funding the most. Only you can determine what your wine and spirit shop or liquor store needs. Whether it's employing more staff, replacing lost inventory from a basement flood expanding your advertising budget or starting a wine and liquor delivery service for the convenience of your customers Business Lending Authority puts the authority in your hands and is here for you through unforeseen events and huge business-changing ideas.
Business Lending Authority Versus. Traditional Bank Loans
High risk designations, outstanding loans, bad credit, no credit, or the worry of losing property are no longer concerns when you work within our proven system. Traditional banks and business loans require you to pay back 95 to 100% of your small business loan before you can be eligible to apply for more loans. With Business Lending Authority, once you repay 70% of your Business Lending Authority Business Loan, you have the option to apply for up to 200% of your first amount in refinancing. With us, the unsecured operating capital is virtually limitless.
Business Lending Authority will do what most banks will not to help your liquor store and wine and spirit shop business grow. Our super-fast approval process and 48 hour cash advances let you get back to what is the most important: doing what you love, seeing goals come to fruition and handling the challenges and opportunities of your business.
Ready for Success?
Here at Business Lending Authority, we know that businesses at all levels can use the power of immediate and reliable infusions of cash, especially in these volatile economic times. It doesnt matter if your liquor store is just barely 6 months old, desperate and strapped for cash, or many years old and looking to open new locations. Maybe  your liquor store has been comfortably doing business for decades but now you are looking to reach a different demographic, or sell more high end wines and liquors. Maybe you want to take a trip to Europe to improve your knowledge of Rieslings and Rose wines. In any situation Business Lending Authority can quickly benefit your business with our unsecured business loan alternatives.
Grow your wine and spirit and liquor store with unsecured small business financing from Business Lending Authority today!