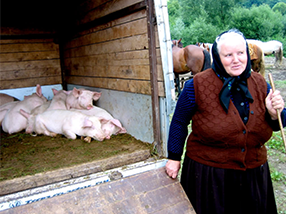 Whether you're an independent farmer or run a franchise, livestock business is difficult and competitive industry. As an owner of a livestock business, you know the importance of healthy operating capital to keep your business running smoothly.
Due to the fluctuating nature of the agribusiness, conventional lenders such as banks make it difficult for livestock business owners to qualify for traditional small business loans. But Business Lending Authority is here to help with fast and easy unsecured business financing. Whether you need operating capital to pay workers, upgrade machinery and equipment, or expand into a more lucrative sector, our program could put a $1,000 to $1,000,000 cash advance in your bank account in as little as 48 hours!
Livestock Business Loans : Meet Expenses with our Livestock Business Financing
The team of experts at Business Lending Authority understands the fixed and variable costs associated with running a livestock business. From equipment maintenance and feeding livestock, to paying a team of quality farmers who know how to properly raise animals, livestock farming is a capital and labor intensive business. With Business Lending Authority's livestock business financing, you will have access to the cash you need to meet payroll, pay mortgages, or buy new feeding troughs and crowding tubes for your cattle. Our livestock business financing can also be used for:
Land mortgages or leases
Payroll
Paying vendors
Franchise fees
Purchasing equipment such as plows, tractors, and portable tubes and alleys
Vehicle leases, rentals, and insurance
Equipment maintenance and repairs
Building maintenance, renovations, and additions
Marketing and advertising campaigns
Utilities
Property and business taxes
Licenses and certifications
Liability and worker's compensation insurance
Building a web site or launching a marketing campaign
Fast and Easy Approval with Business Lending Authority Livestock Business Financing
Applying for a traditional small business loan from banks and traditional lenders can be a big waste of time. They require borrowers to have perfect credit scores and ask to see several quarters of income statements that show profitability. Banks and conventional lenders also ask for multiple years of tax returns, collateral, and personal guarantees. The loan application process takes months and your chances of getting approved are slim. While waiting to hear back from them, your lack of cash flow could impact day-to-day operations and ultimately force you to close the business.
Business Lending Authority, on the other hand, offers a streamlined application and approval process that is designed to get unsecured business financing to you in as little as two days.  Regardless of your credit history, you could qualify for our livestock business financing. Our cash advances are available to agribusiness owners with good or bad credit. We understand that circumstances arise in business and don't hold a bad credit rating against you. In fact, we approve 90% of applicants, so you have a great chance of qualifying. We won't waste months or weeks waiting to get back to you. Once approved, you will have $1,000 to $1,000,000 of livestock business financing in your bank account in just 48 hours! It's that simple!
Don't waste time with banks and conventional lenders. Let Business Lending Authority get you the livestock business financing your operation needs to thrive!
Here's What You Need to Apply for Livestock Business Financing:
Monthly gross sales of $15,000 or higher.
A livestock business that has been operating for at least 6 months. No startups.
No home-based businesses.
To fill out the simple application form on the side of this page.
Speak with a Business Lending Authority representative to complete a few easy steps, once you fill out the application.
What You Don't Need:
Restrictions on how you use the money you apply for.
Good credit.
Collateral which you could lose or demands for liens on your property.
Traditional business loans that take months to obtain, if you pass all the strict requirements.
Ongoing Livestock Business Financing from Business Lending Authority
With Business Lending Authority, you have the option of applying for additional livestock business financing after you've paid back just 70% of the original cash advance. That's right! We give you the chance to get additional operating capital in just a few days! Banks and conventional lenders make you repay 95% to 100% of the original loan before you can go back through their months-long application process. Unforeseen expenses such as a equipment failure could wreck havoc on your business if you don't have timely access to additional operating capital. Our ongoing livestock business financing will give you the peace of mind of knowing that a cash advance is readily available to help cover any unforeseen expenses that arise.
Restriction-Free Livestock Business Financing
Business Lending Authority does not restrict the ways your livestock business financing can be used. Banks and conventional lenders limit how a livestock business loan can be applied, and most of their restrictions will keep you from addressing what ails your business. At Business Lending Authority, we give you the flexibility to use your cash advance however you see fit. You understand the ins and outs of your business and shouldn't have a lender telling you what's best. Our livestock business financing will give you the freedom to use your expertise and know-how to best serve your businesses' needs.
Grow Your Business with Livestock Business Financing from Business Lending Authority
Let our livestock business financing plant the seeds that help your agribusiness grow healthy and strong. Whether you want to expand into fish farming, or enter the lucrative free-range sector by buying several additional acres to let your chickens and turkeys roam, there are number of ways your cash advance can be used to help grow your livestock business. Whatever your goals, our livestock business financing can bring them within reach.
Cover expenses, outpace competitors, and grow your agribusiness with livestock business financing from Business Lending Authority. Simply fill out the form on the side of this page to get the unsecured business financing you need to put food on tables across the world. Apply now!