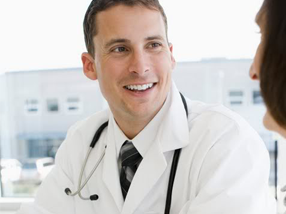 Medical Practice Business Financing
If you're running a private practice medical office, it can be costly. Securing the medical practice financing you need to keep your practice running smoothly and your patients happy and healthy is not easy.
If you go the traditional unsecured business loan route, you're in for months of waiting and a slim chance of loan approval. Brick and mortar lenders like banks require a laundry list of high profit statements, good credit and collateral or liens on your property. If you have bad credit or no credit, or need cash fast, Business Lending Authority can help with medical practice financing in the form of a small business loan alternative. We offer cash advances in as little as 48 hours. That's right, in just two days you could have the operating capital you need to renovate your medical office, hire more staff or install a new appointment tracking system. And with our 90 percent approval rate, it's a win-win! Apply now by filling out the form on the side of this page.
Medical Practice Business Financing  : Cover Your Medical Business Expenses with Medical Practice Financing
Whether you need office renovations, more staff members or a new computer system in your office, medical practice financing can help you stay up to date with the latest medical technology and the most comfortable, functional facilities so your patients will feel at ease and know they can trust you to provide the best service. The medical field is a lucrative yet highly competitive one, and if you don't keep up with the latest treatments, drugs, technology and facilities, your patients will dwindle. Here are just some of the medical business expenses we can fund for your practice:
Rent
Utilities
Medical equipment and repair costs
Cleaning costs
Waiting area entertainment (including TVs, magazines and newspapers)
Insurance fees
Computers and medical software program costs
Staff costs
Advertising and marketing costs
Medical Practice Financing for All Private Practices
Business Lending Authority offers medical practice financing for a wide range of private medical practices. Whether you're a podiatrist or a pediatrician, we got you covered. Practices we cover include:
General physician practice
Pediatric medicine
Allergist
Dermatologist
Endocrinologist
Family practitioner
Internal Medicine Specialist
Orthopedic surgeon
Orthopedist
Cosmetic surgeon
Urologist
Podiatrist
Business Lending Authority's alternative small business loan program allows you to put your cash advance to use however you see fit for your business. And we approve 90 percent of applicants! So apply today by filling out the simple form on the side of this page.
Here's What You Need to Apply for Medical Practice Financing:
To fill out the simple application form on the side of this page.
A medical practice that has been in operation for at least 6 months. No startups.
Monthly gross sales of $15,000 or higher.
Speak with a Business Lending Authority representative to complete a few easy steps, once you fill out the application.
What You Don't Need for Medical Practice Financing:
Good credit.
Restrictions on how you use the money you apply for.
Collateral which you could lose or demands for liens on your property.
Traditional business loans that take months to obtain, if you pass all the strict requirements.
Grow Your Business with Medical Practice Financing from Business Lending Authority
Your medical practice hinges on providing the best medical care and service to clients in a timely, friendly manner. If you don't have the staff or tools to provide the best care and service, your patients will flee to the doctor down the street or across the hall. With so many practicing doctors, clients have an extensive choice of providers to choose from. Make sure you offer the best choice and stand out from the crowd by providing a comfortable, modern office, well-trained, friendly staff, an organized system of keeping track of patients and their conditions, and of course the best medical technology and services. All of these amenities come at a price, and medical practice financing from Business Lending Authority will help you pay that price. With our fast, easy small business loan alternatives, you can have the operating capital you need in your checking account in as little as two days! So no more months of haggling with banks of traditional lenders – simply fill out the short application form on the side of this page to get started, and one of our representatives will call to help you complete the application process.
Get Continual Medical Practice Financing with Business Lending Authority
At Business Lending Authority, we understand that your medical practice is subject to fluctuating expenses – whether it's new blood pressure monitors you need or a bigger office space – and we're here to help. That's why we allow you to reapply for more medical practice financing after you repay just 70 percent of your original cash advance. And with our speedy application and approval process, you'll never be caught without operating capital. If you take the slow road with banks and traditional lenders, on the other hand, you'll have to repay 95 to 100 percent of your original unsecured small business loan, and then once you do it'll be many more months of waiting to hear back on your loan. In the meantime you'll be left high and dry without medical practice financing.
Offer the Best Medical Services with Medical Practice Financing
The medical industry is a fast-paced one requiring expensive technology and adequate staff and systems for dealing with insurance agencies and payments. Don't get left in the dust with outdated medical supplies, a short staff or old computer system. Offer your clients the very best, and see your business boom, with medical practice financing from Business Lending Authority.