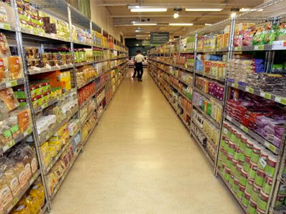 Supermarket Business Financing
Operating a supermarket is a stressful business, with dozens of competitors jockeying to provide foods, meats, and baked goods, as well as pharmacy and floral services.
With such a crowded market and large payroll, you need a healthy cash flow to ensure your supermarket's long-term viability. Banks and traditional lenders view supermarkets as high-risk businesses due to their high overhead costs, and make it terribly difficult to quality for traditional small business loans. Business Lending Authority is here to help, offering unsecured business loan alternatives to help your supermarket succeed. With our easy approvals and fast processing, you could have $1,000 to 1,000,000 of supermarket financing in your account in 48 hours!
Supermarket Business Financing  : Cover Expenses with Supermarket Financing from Business Lending Authority
There is more to operating a supermarket than selling cereal, stocking fresh fruits and vegetables, and bagging groceries. As the owner of a supermarket, you know the various overhead costs that eat away at your bottom line and how supermarket financing can help you meet obligations. From building maintenance and equipment maintenance, to paying utilities and keeping thousands of items in stock, there are dozens of expenses that could keep your supermarket in the red. Supermarket financing from Business Lending Authority will help you cover cash flow shortfalls. Our supermarket financing can be used to help keep shelves stocked, purchase a new oven for the bakery, or to pay for new refrigerators in the dairy section. Whether you want to hire a new pharmacist, remodel your store, or buy a new meat slicer for the deli, our unsecured business financing can be used in a various ways to help your business run smoothly. Supermarket financing can also be used to pay for:
Store leases
Renting a larger space
Inventory and vendors
Shelving
Staff salaries
Insurance
Security mirrors and cameras
Renovations
Building and equipment maintenance
Renovations and upgrades
Shopping carts
Indoor and outdoor shopping cart corrals
Conveyor belts
Cash registers and computers
Marketing and advertising
Lift trucks
Butcher Equipment
Meat and deli cases
Handbaskets
Baking equipment
Freezers and refrigerators
Signage
How Business Lending Authority Supermarket Financing Works
Business Lending Authority's supermarket financing is tailored to help you succeed in a demanding industry. Banks and traditional lenders make it increasingly difficult to acquire small business loans, requiring good credit, perfect income statements, years of tax returns and collateral. And their lengthy application process takes several months just to let you know if you've been approved, and even longer to get the funds to you. Business Lending Authority's fast approval process is designed to get the cash advance to you in as little as 48 hours! After you apply for our unsecured business financing, we will contact you within two business days and let you know if you qualified for supermarket financing. Our approval rate is 90% so there is a great chance that you will qualify for our unsecured business financing. Once approved, you will have $1,000 to $1,000,000 in supermarket financing in your bank account in two business days. Simply fill out the form on the right side of this page to apply for a cash advance from Business Lending Authority and put our unsecured business financing to work for you!
How to Apply for Hotel Business Financing
Fill out the simple application form on the side of this page
Speak with a Business Lending Authority representative to complete a few easy steps, once you fill out the application
Must be a supermarket business that has been operating for at least 6 months. No startups.
Must have monthly gross sales of $15,000 or higher.
What You Don't Need
Good credit
Collateral which you could lose or demands for liens on your property.
Restrictions on how you use the money you apply for.
Traditional business loans that take months to obtain, if you pass all the strict requirements.
More Flexibility with Supermarket Financing from Business Lending Authority
Business Lending Authority employs a team of supermarket experts who understand the industry. We know the financial demands of keeping tens of thousands of items in stock, and how a decline in cash flow can impact your ability to meet payroll. Our supermarket financing is designed to get you a cash advance fast, so you can address the needs of your business. Unlike banks and traditional lenders who restrict the ways supermarket loans can be used, Business Lending Authority cuts through the red tape, giving you the flexibility to use supermarket financing however you want. You oversee your business everyday and have the expertise of knowing what it needs. We believe that you should be free to use your know-how to apply the supermarket financing the way you think will help your business thrive.
Have Access to Ongoing Supermarket Financing with Business Lending Authority
With Business Lending Authority, you can have access to additional operating capital once you've paid back 70% of your original cash advance. Traditional lenders won't allow you to apply for more supermarket financing until after you've paid back 95 to 100 percent of your small business loan. They also make you repeat the entire time-consuming application process and wait months to let you know if you qualified. While waiting to hear back from them, you may be unable to repair a broken refrigerator unit, or lack the funds to hire new cashiers, resulting in long lines of frustrated customers and lost sales. At Business Lending Authority, we understand the demands of the market and how wasting time can cost you dearly. We want to give you the peace of mind of knowing you have fast access to ongoing supermarket financing whenever you need it.
Use Business Lending Authority's Antique Store Financing to Help You Become a Success Story
Get the supermarket financing you need to keep bakery cases stocked with enticing pastries, or have the operating income to hire seasonal workers during the holiday rush. Simply fill out the form on the side of this page to get started. One of our representatives will call you to help walk you through the simple process. Apply now!